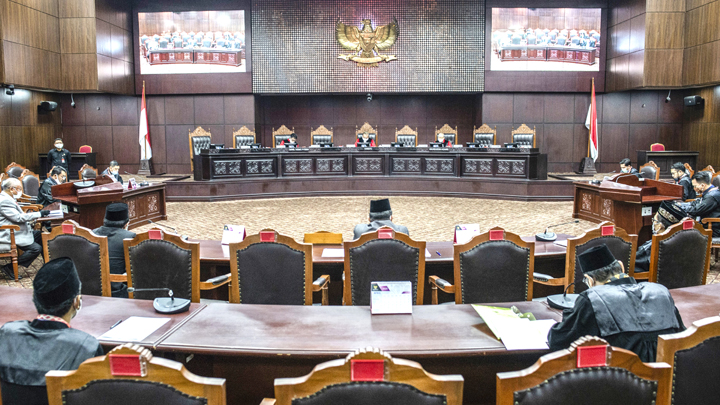 THE House of Representatives (DPR) moved closer to its goal of amending Law No. 24/2003 on Constitutional Court after the plenary session on April 2 approved the Constitutional Court Bill as its initiative. Next, the DPR needs only wait for the president's letter and problem inventory list from the government to begin discussing the revision.
The DPR's plan to revise the Constitutional Court Law was revealed in April after a draft of the proposed amendments leaked to the public. Some articles became a topic of conversation among legal practitioners and activists. An article concerning the age limit of justices sparked controversy. Protests from activists grew louder as the DPR decided to officially discuss it.
House' Steering Committee received the draft on February 21. The document contains 14 points of discussion. Aside from the age limit, changes are also planned for articles concerning the election of chief and deputy chief justice, requirements for justices, dismissal of justices, and age of retirement.
The Save Constitutional Court Coalition is among those who vigorously criticize the planned revision. This group consists of several civil society organizations, such as the Indonesia Corruption Watch (ICW), Constitution Study Center, Indonesian Law and Policy Studies Center, and Gadjah Mada University Anti-Corruption Studies Center. "The draft is problematic," said ICW researcher, Kurnia Ramadhana, on May 15.
Kurnia said that one of the articles planned for revision concerns the age limit for judges, regulated in the 2nd Paragraph of Article 15. The revision states constitutional court judges should be between 60 and 70 years old of age. The minimum age limit in the existing law is 47 years old. "This is strange. A judge's integrity and capability cannot be measured by age," he said.
He mentioned some capable examples, like Jimly Asshiddiqie who was elected Chief Justice of Contitutional Court at 47 years old. There are also Mahfud Md. who became Chief Justice at 49 years old, and Hamdan Zoelva, who joined the ranks of justices at 47 years old. Later on, Hamdan became Chief Justice at 51 years old. All three, according to Kurnia, were well capable of performing their duties as justices. "Other Constitutional Court justices will be disadvantaged by this age limit. For example, Saldi Isra, who is 51 years old," he said.
Another article subjected to critic is one regarding Constitutional Court chief justice and deputy chief justice term of office. The planned revision extended the term of office from two and a half years to five years. This is mentioned in the 3rd Paragraph of Article 4. The article, according to Kurnia, will benefit the current Chief Justice by prolonging the term of office.
Requirements for a Constitutional Court justice, said Kurnia, should be measured by the person's integrity, constitutional knowledge, and legal understanding. These parameters are important in determining the quality of decisions. "So as to not repeat what happened with Akil Mochtar," he said. Akil is a former chief justice arrested by the Corruption Eradication Commission (KPK)for receiving bribes related to regional head election dispute.
Andalas University Constitutional Studies Center Director, Feri Amsari, suspected a conflict of interests to be behind the revision. The Constitutional Court is currently examining two sets of regulations which are in the center of the public spotlight. First is the new KPK Law. Second, the Government Regulation in lieu of Law No. 1/2020 on state financial policies in dealing with the coronavirus outbreak. "We are concerned that the revision is part of a swap of interests," he said.
Former Constitutional Court justice, I Dewa Gede Palguna said the suspicion is reasonable because the DPR is only concerned with age limit. Discussion of the revision, he said, should be focused on strengthening the institution. For example, by expanding the Constitutional Court authority to receive constitutional complaints, instead of just checking laws against the Constitution. Therefore, the Constitutional Court will not only act as guardian of the constitution, but also the citizen's rights. "This is unfortunate. It looks like as if the revision benefits the Constitutional Court justices, but actually it's not necessarily so," he said.
---

"THIS IS AN OPEN CUMULATIVE LAW REVISION WHICH MAY BE DISCUSSED AT ANY TIME.
IT DOES NOT NEED TO BE INCLUDED IN THE PROLEGNAS."
Legislation Body Chairman
Supratman Andi Agtas
_______________________________________
Palguna also thinks that now is a not a good time to revise the Constitutional Court Law. Amid the Covid-19 pandemic, he said, an agenda to amend the law will be seen as 'immoral'. Changes to the law will be made without first going through public scrutiny. "How could it not involve public participation? Is it not the requirement for a law to be discussed?" Palguna said.
The revision was proposed by Supratman Andi Agtas, chairman of the DPR's Legislation Body. Supratman, a Gerindra Party Faction politician, is the sole initiator and architect behind the planned revision. "After obtaining DPR's approval, it is now waiting for the government's decision," he said on May 15.
Supratman said the planned revision cannot be included in the National Legislation Program (Prolegnas), yet. Even then, he said its discussion may still continue. "This is an open cumulative law revision which may be discussed at any time. It does not need to be included in the Prolegnas," he said.
Since being passed in 2003, the Constitutional Court Law underwent a revision in 2011. The change consisted of 31 articles, including those concerning the composition of the honorary assembly, justice supervision, term of office for chief justice and deputy chief justice, educational requirement, and justice code of conduct. Revision to a number of articles was once proposed in 2016, but failed to gain ground.
Supratman refutes the allegation that certain interests hide behind the revision. Change to the maximum age limit, according to him, is proposed to give a sense of fairness. This is because Supreme Court judges may continue their career until they are 70 years old. He also proposed a new minimum age of  60 years old for justices out of consideration of experience and mastery of knowledge. "Besides, this is just a proposed idea now," he said.
Padjajaran University constitutional expert, Susi Dwi Harijati, also disproves the planned revision, saying that it contains numerous problems from both formal and material aspects. From the formal aspect, she said, the proposed revision is procedurally flawed because it is only submitted by one member of the House. "What is the legal basis of a planned revision that came from a personal initiative?" she said.
She also thinks that the document on planned revision to the Constitutional Court Law disregards scientific accountability. This is because, according to her, the document does not yet include a chapter explaining the theoretical evaluation and empirical practices the proposed changes are based on. Such explanation is important to assess whether regulations like justice age limit are scientifically acceptable. "It is dangerous if a law has no scientific foundation," she said.
RIKY FERDIANTO
sumber: magz.tempo.co